This years 375th anniversary challenge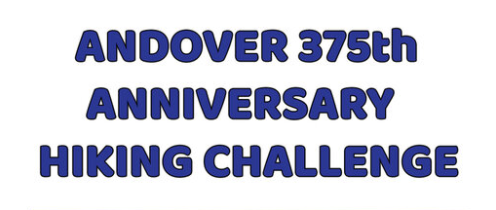 This year's 375th challenge is a perfect way to get out and explore the parts of Andover you may not have seen before. This challenge has been going on since July 1st 2021 and will continue until May 6th 2022. The goal is to hike 10 AVIS Reservations and 10 Town Conservation Lands here in Andover. If you need a way to get everyone out of the house and do something while everyone is home on vacation, this is the perfect opportunity to explore these reservations you haven't seen. Some hikes are right near each other so you can finish two in one day! You could even try to finish all 20 hikes and win a drawstring backpack as a prize for finishing.
While out on your hikes try and see if you can tell the difference between the AVIS properties and the Town's properties. What do you notice when looking at the different properties? You could also make a game out of it while on your walks. You could try to spot certain animals or see if you can notice any beaver activity on certain reservations like the Skug River Reservation. It is always fun trying to spot things like squirrel nests or animal burrows along these trails.
A quote from one of AVIS' trustees, Annie Gilbert, participating in this challenge: "AVIS partners frequently with the Town on conservation efforts, so it made perfect sense to collaborate on the 375th Anniversary Challenge Hike as well.  We're thrilled to be showcasing so many special AVIS and Conservation Commission properties, many of which are adjacent to one another."
If you would like to participate in Andover's 375th anniversary challenge or need to look at additional information on it you can go to the AVIS website linked here. On that link there is also a form you can fill out on the second page to participate.