Boy Scouts Building Boardwalks!
Recently, during a conversation with my mom about what I've learned while writing my blogs, it occurred to me that despite being an avid enjoyer of the trails she knew very little about the tremendous amount of effort that goes into maintaining local reservations. While this makes sense considering everything I know about AVIS trail upkeep I've learned over the course of my internship this year, I thought this conversation provided a lovely opportunity to center one of my posts around the behind-the-scenes projects and efforts that go into maintaining and caring for the land.
It's so easy to appreciate the beauty of nature while on a picturesque walk that we tend not to think about how each reservation is given care and consideration by fellow members of our community. A lot goes into ensuring that each trail is both environmentally healthy and sustainable, as well as walkable. Each reservation has its own AVIS Warden(s) responsible for oversight of the property. This job encompasses trail construction and clearing, trash pick up, making and installing signs, bridges, boardwalks, and other physical improvements. I spoke to AVIS Land Management Committee member Buzz Stapczynski about specific examples of land management efforts- especially efforts involving coordination with other groups throughout our local community- and he told me about the Boy Scouts and their ongoing involvement.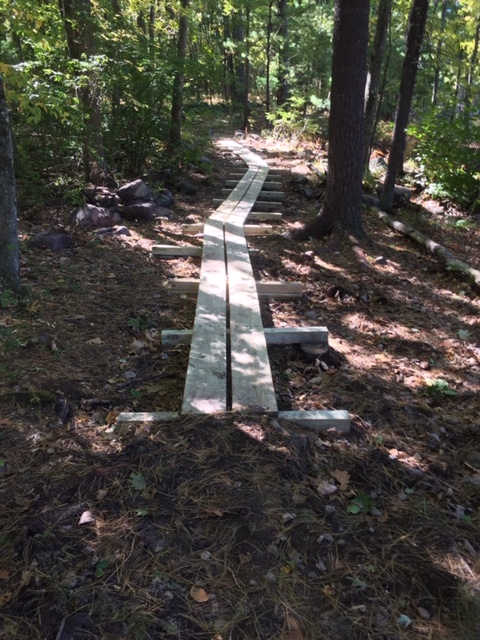 In order for Boy Scouts to become Eagle Scouts, they have to complete a leadership project in which they pitch an idea for the project, plan it out, recruit fellow Boy Scouts to help them complete the project, and then write a report on it after. These projects must benefit the greater community or local nonprofit. Over the years, various Boy Scout troops have taken on trail improvement and many of these projects involve building boardwalks for AVIS trails. The Boy Scouts design boardwalks for wetland/wetland adjacent trails in low areas where water collects in order to keep muddy trails walkable during wet seasons.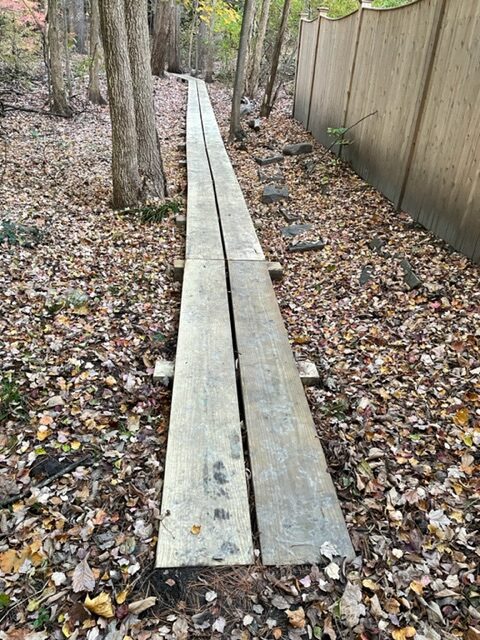 Part of the challenge for designing these boardwalks is considering the unique lay of the land; each boardwalk is built with specific consideration to its location to make sure that it fits, and the design is kept simple so that the boardwalk does not take away from the natural landscape of each trail. The Boy Scouts also have to figure out efficient ways to transport their materials deeper into reservations that may be muddy, rocky, or hilly. These boardwalks are kept low to the ground so that they avoid creating tripping hazards or steps up. This keeps them safe and accessible for everyone to walk on during all times of the year. It also ensures that they are long-lasting and will not be a challenge to maintain over the years.
Eagle Scout projects have enhanced nearly every AVIS reservation, so it's likely you may have come across one while out walking before without realizing it. In addition to Eagle Scout projects, AVIS is currently working with local scout troops to engage younger scouts in land stewardship projects as we would love to encourage more involvement within the community. The next time you decide to amble the AVIS reservations, be sure to keep an eye out for the work of our local scout troops!